Before proceeding to the regular purchase process, we will find out how to create new products in KIU BMP. There are many ways to create new products such as go to Inventory-> Master data-> Products or Accounting-> Customers/Vendors-> Products then select Create to create a new product

Fill in the Product name and select "Can be sold" or "Can be purchased" or  "Can be expenses". The first is "Can Be Sold", which as the name implies denotes a product that your company sells. Similarly, the second checkbox "Can Be Purchased" denotes a product that your company can buy. The final checkbox "Can Be Expensed" is for items that can be attached to employees' payroll for reimbursement purposes. E.g. hotel rooms, conference fees, or airline tickets)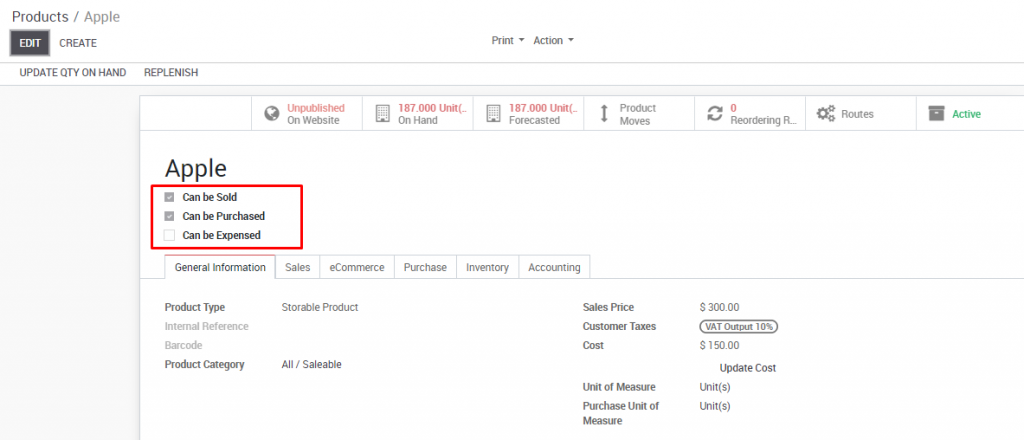 In tab General Information in the form of the product, there are three types of product: Consumable, Service, Storable product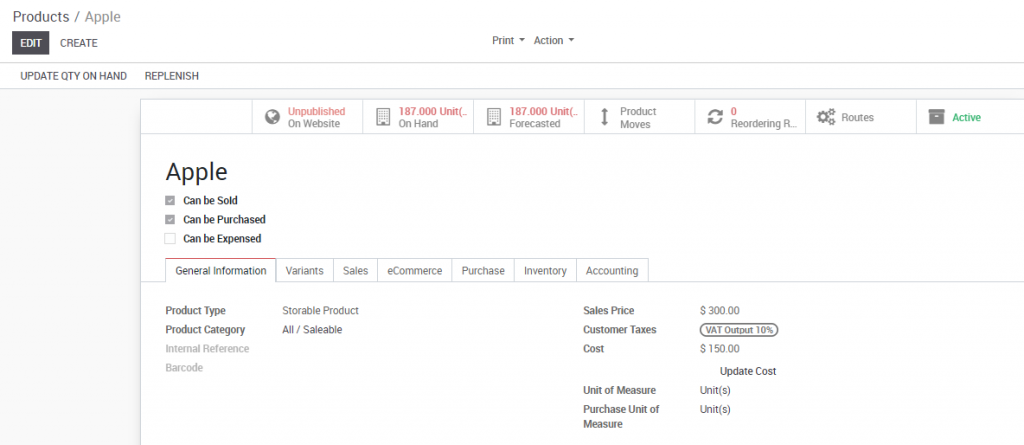 "Consumable" are physical products that are treated like a storable product, with the exception that stock management is not tracked by the BMP System.
"Service" type of product is an intangible product and not applied in any stock operation. Examples of "Services" are accounting, cleaning, insurance, or transportation. There are special features to track services in the "Invoicing" tab.
"Storable Product" are the physical products that your company has stock management rules to ensure they are in your inventory. These products are those that you will sell to customers or the raw materials of your manufactured products.
In the "Sale price" field you can set a price for your product, if you will sell that product at a fixed price
The "Cost" field refers to either the purchase cost or the production cost of the product. If the product follows the standard price costing method, the value entered here, normally once per year, is also the cost price of the product. If the cost of the products are set in the product form, this cost will be used to calculated inventory valuation in the Inventory module
Unit of measure is the selling unit of measure used in the meanwhile purchase unit of measure is used in purchase order. Selling unit of measure can be different with purchase unit of measure, for example the company can buy products with unit of measure is ton(s) then sell to the customer with unit of measure is kg or g. The purchase unit of measure must be in the same category with the unit of measure.
Variants tab: Product variants can be used to manage products having different variations, like size, color, etc. It allows you to manage all variations of a product at what we will call the product level, and to set other controls for specific attributes at the variant level. For example, for selling apples as a product, you would expect variants for sizes.

Now that we've completed all the items on the Variants tab, let's move to the Sales tab. The Point of Sale section can be utilized to control how a product interacts with the "Point of Sale" module. If you want the product to be visible for sale, check the first box. You can also create categories for your items within the Point of Sale system, or require the product be weighed at the time of sale.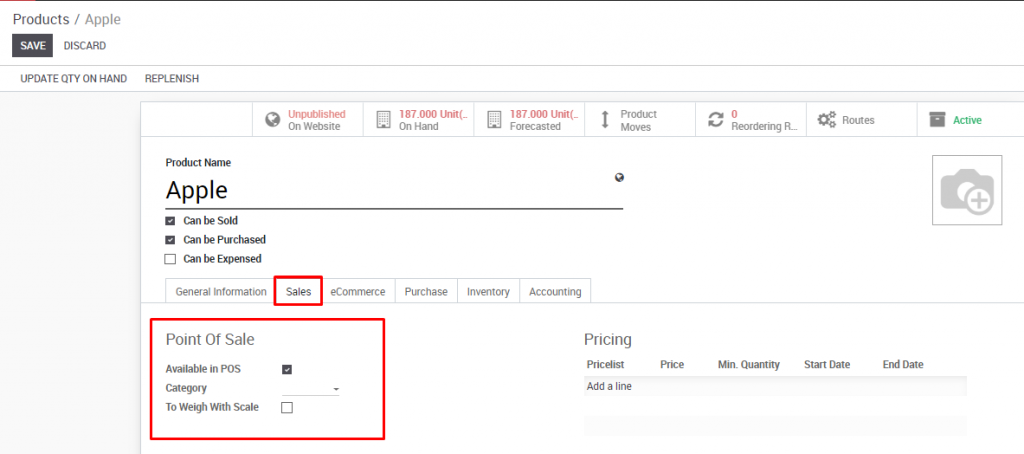 After saving the attribute value, you can set the price for attribute value by clicking Configure Variants. The variant prices will be included in the sale price of the products. 

And finally, you can add photos or graphics associated with your products in the image icon in the top right- hand side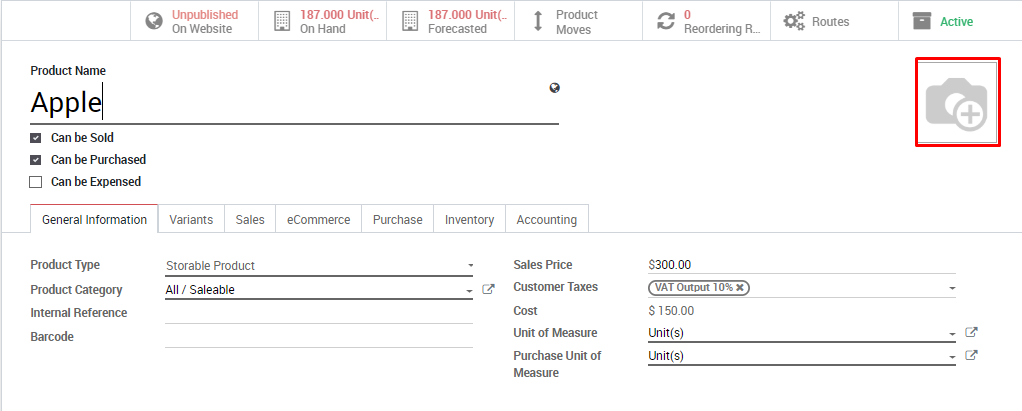 When you have completed filling in all of the information across all of the tabs, you can click the Save button at the top of the screen to create your product.