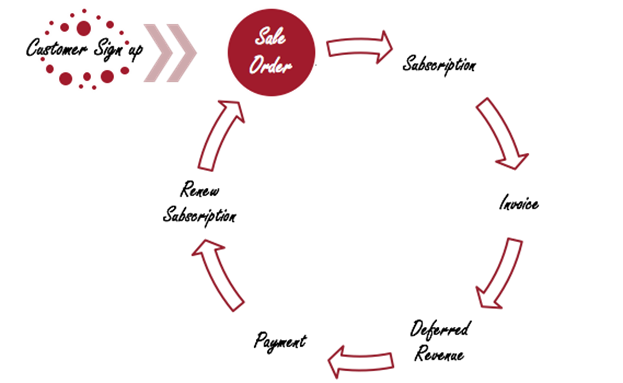 Customers subscribe on website ‣ SO is generated automatically 
‣ Based on the settings of Contract Template set at Quotation template of SO, a Draft Subscription will be generated automatically
‣ Edit info (especially End date) on that Subscription if necessary
‣ Validate the Subscription
‣ Manually create an invoice from SO at Sale Module ‣ Validate the Invoice
‣ Based on the settings of Deferred Revenue Type on Subscription Template (Contract Template) a Deferred Rev enue will be generated automatically.
‣  Next invoice will be generated automatically based on the Subscription until the End Date of Subscription
‣ The Subscription will be sent to List of Subscription to Renew by the End Date
‣ Once we renew the Subscription, a SO will be generated accordingly.
‣ Manually create 1st Invoice and start next loop.