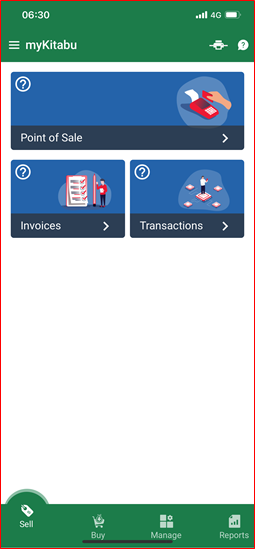 'Point of Sale'

The Point of Sale is like your digital cash regiser.
'Cash in Drawer' as shift start – opens cash register in the morning by registering how much cash was left in the drawer. This can be any registered cash/change business will use to start the day. Enter value and press '+'.
By pressing on any of the defined items, a person selling can start sales transaction by:

Adjusting quantity sold.
Adjusting price unit(s).
Adjusting discount (if any).
Pressing 'Checkout' button.
Confirming 'Cash Received'.

'Invoices'

STEP1 – selection of customer. Any customer that has already been registered under 'Manage' > 'Customers' would automatically appear on the list of customers. Select existing customer or select 'Individual Customer' and click 'Next'.
STEP2 – add any registered product or service to your invoice.
STEP3 – add quantity sold, price per unit, and discount and press 'Confirm'.
STEP4 – press 'Next'
STEP5 – select "Payment Term' and 'Due Date' and press 'Next'
STEP6 – edit 'Customer' and 'Order Total' fields if necessary and press 'Save'
STEP7 – press 'Register Payment'
STEP8 – "Enter Paid Amount', select 'Mode of Payment' (Bank, MPESA, Cash) and press 'Record Payment'.

'Transactions'

'PoS' – record of all transactions created with point-of-sale,
'Invoice' – record of all invoices generated.