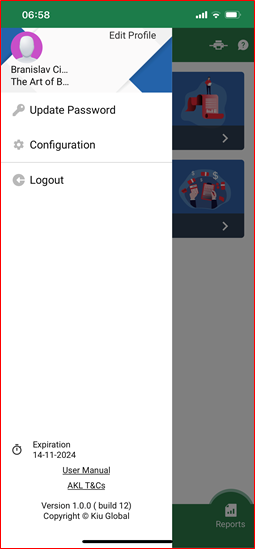 'Edit Profile'

Edit profile allows the following functionality:

Adding user's picture.
Changing first and last name.
Changing date of birth.
Changing gender.
Changing contact phone (be careful, this is phone used for subscription and update purposes).
Changing physical address.
Changing email address.

'Update Password'
Allows the user to change user password for myKitabu app.
'Configuration'

Allows user to customize the app by:

Adding more advanced features
Adding the unit of measure when buying or selling a product.

'Logout'
Allows the user to logout from the app. App will require password on next login.
'Subscribe Now'
Allows the user to go through MPESA-based subscription service.
'Expiration'
Shows the user current subscription expiry date.
'User Manual'
Location where this manual and all its updated versions is available for download in a PDF format.
'AKL T&Cs'
Afri Kash Limited terms and conditions related to myKitabu applications use.